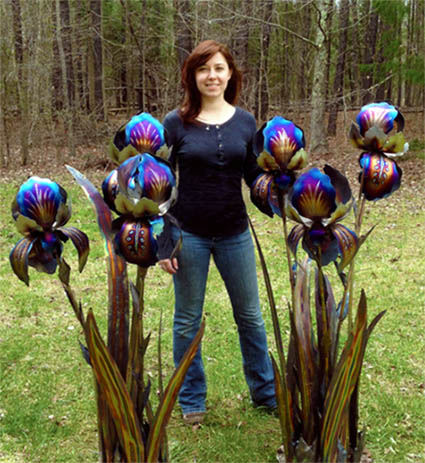 Holly Felice thinks of herself as a mixed-media sculptor because her passion for creating isn't limited to just one medium, or one genre for that matter.
Exploring different directions, her art extends from book making to large public installations, and much in between.
Holly Felice's art includes:
Colorful stainless-steel azaleas, wild tulips, and irises for outdoor gardens and patios
Wall sculpures, such as her popular rosette
One of a kind, handmade, designer books
Wearable sculptures
She has BFA in Sculpture from Appalachian State University and over 8 years sculpting experience. She has enjoyed working with several well-established artists over the years and is currently partnering with renowned metal sculptor Gary Caldwell on large-scale public art exhibitions throughout the country.
Enjoy!